LANGHE - PARUSSO PRESENTA I BAROLO 2016
di Antonio Paolini e Paolo Valente
Maggio 2020
ARTICOLO ORIGINALE: https://vinodabere.it/langhe-parusso-presenta-i-barolo-2016/
 ENGLISH VERSION FOLLOWS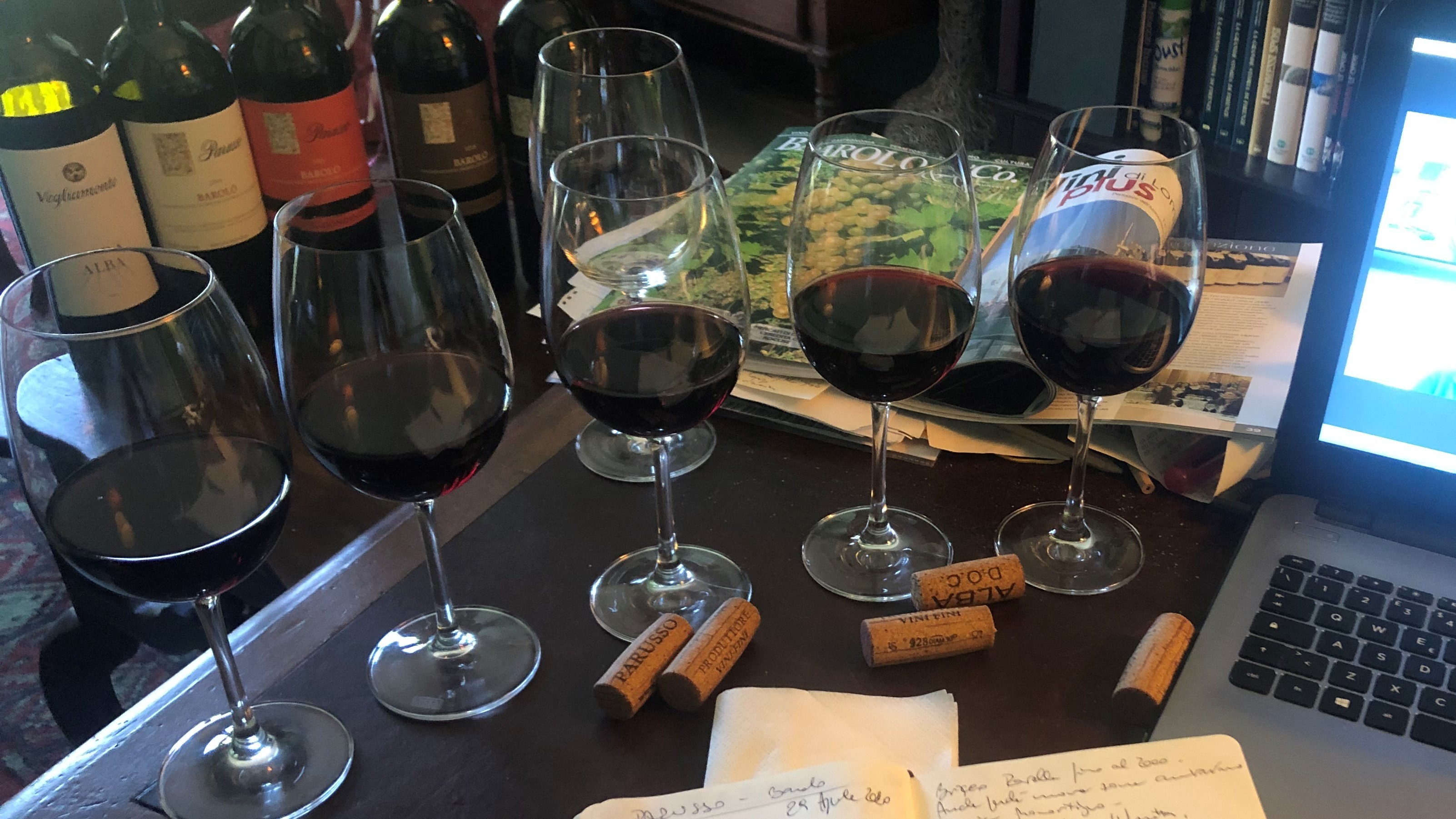 Anche la videoconferenza non ridimensiona la carica travolgente di Marco Parusso. Parla entusiasta per due ore filate, raccontando della sua azienda e dei suoi vini, della sua vita e delle sue scelte enologiche, di come interpreta la viticultura.
Un approccio decisamente pragmatico e insieme condito di coraggi e curiosità, fatto di decisioni prese ma anche della capacità di ritornarci sopra per modificarle e adattarle alle nuove condizioni o alle nuove esigenze.
Il suo metodo – il Nebbiolo secondo Marco, si potrebbe dire – è un cocktail di antico e modernissimo, radici e avanguardia. Costante e attento l'occhio di riguardo verso la tradizione, con la riscoperta di pratiche cancellate o dimenticate dai più, ma riscritte in chiave moderna grazie all'applicazione delle tecnologie ("Esistono, funzionano: perché non dovrei usarle?") più recenti. Così nascono i suoi vini.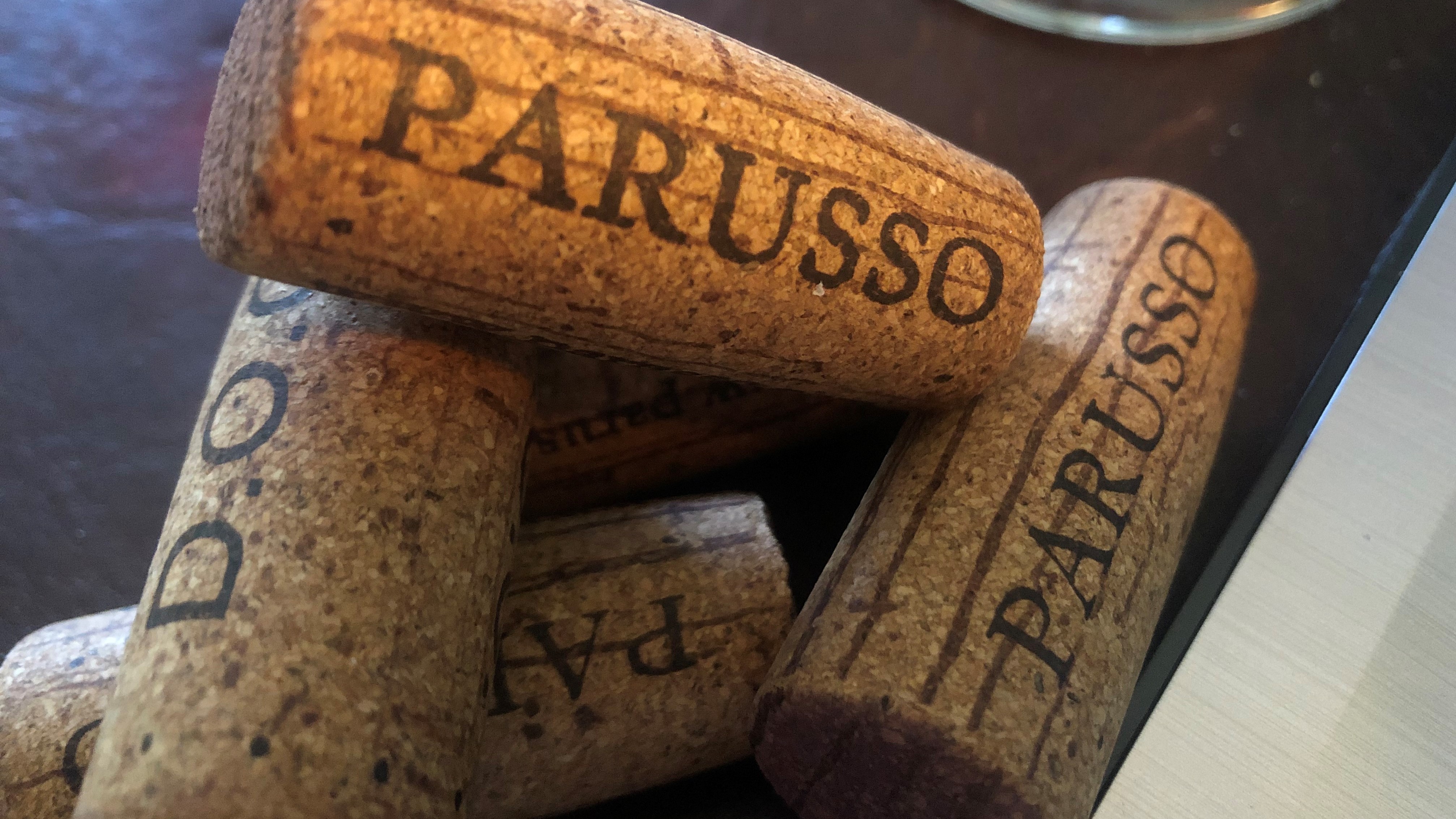 VEGLIAMONTE
Innanzitutto, una nuova avventura iniziata nel 2015 quando Marco e la sorella Tiziana cominciano a gestire i vigneti della Cascina Baconotta in località Santa Rosalba ad Alba.
Qui vogliono produrre un vino solo, un Alba DOC, che racchiuda la tradizione locale ben consapevoli che parte della rinascita enologica del Piemonte è stata determinata da vini a base Nebbiolo "rinforzati" dalla presenza di altri vitigni. Questo per poter accedere più facilmente a mercati esteri che, abituati al gusto dettato da Bordeaux, si aspettavano vini dalle caratteristiche differenti in termini di colore, tannino e struttura rispetto a quelle del Nebbiolo in purezza.
Vegliamonte,  il nome della cantina e del vino, riporta alla posizione privilegiata della collina dalla quale lo sguardo spazia dal paese di Barolo alla catena montagnosa a sud, sud-ovest. È un vino prodotto con un uvaggio di 85% Nebbiolo e 15% Barbera sotto la denominazione Alba.
Una denominazione nata proprio con lo scopo di far rivivere questa tradizione e che obbliga all'utilizzo di Nebbiolo da un minimo del 70% ad un massimo dell'85% e Barbera compreso tra il 15 e il 30% con la possibilità di un 5% massimo di altri vitigni a bacca rossa non aromatici e maturazione di almeno due anni prima della messa in commercio.
Bellissimo color rubino vivace. Il profumo è accattivante, un dinamismo che conquista. Grande concentrazione con note che spaziano dalle spezie nere alla confettura. Pieno alla bocca, piacevolmente fresco con gradevoli sentori della maturazione in legno e un tannino sottile. Buona la persistenza.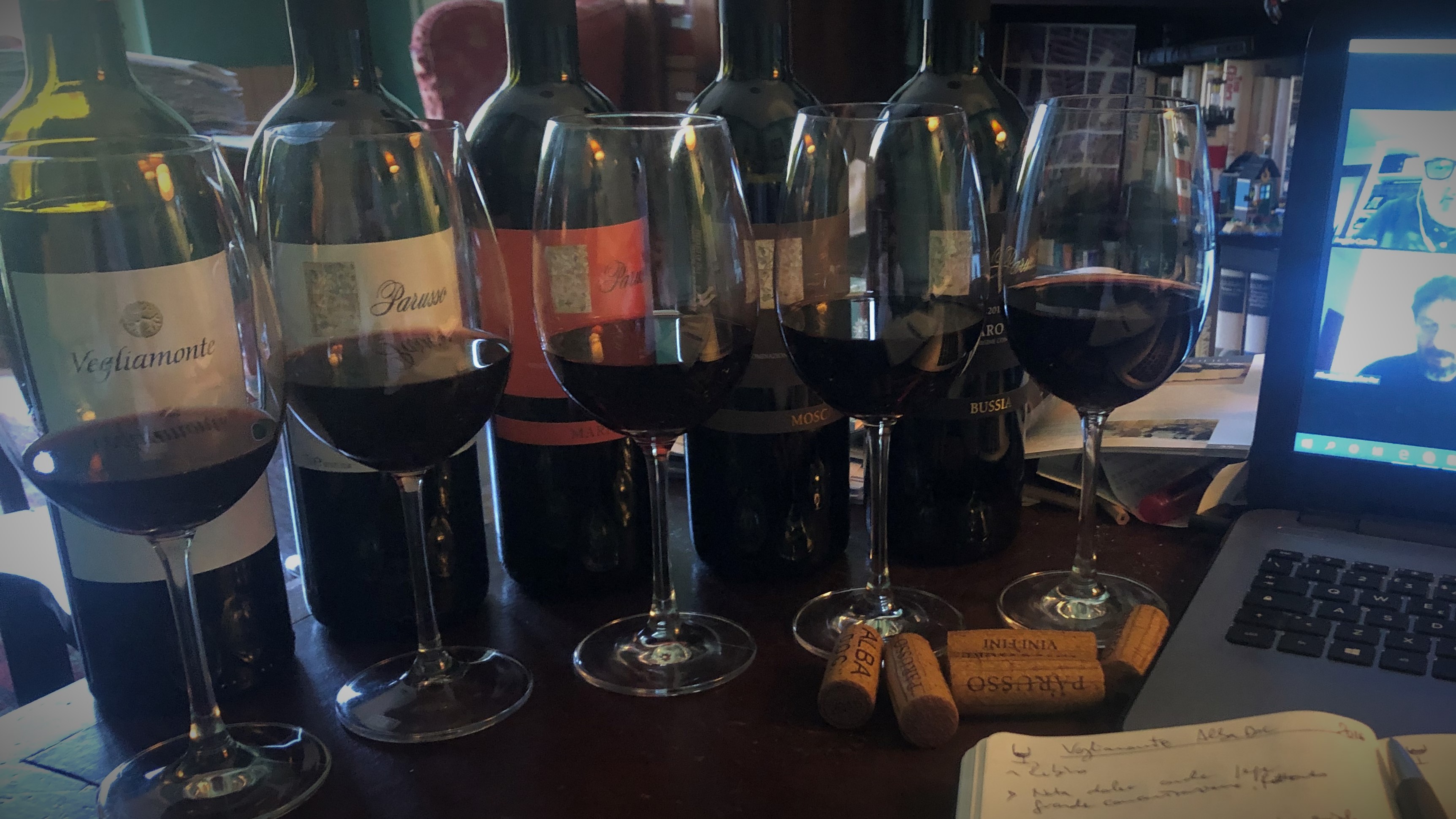 BAROLO
I Barolo di Parusso sono prodotti tutti con una tecnica che prevede il recupero della pratica veterocontadina del "riposo" delle uve dopo la vendemmia e prima della pigiatura. L'uva però viene ora vendemmiata con la massima accuratezza, eliminando ogni imperfezione, e i grappoli vengono deposti in piccole ceste che sono poi collocate in una stanza rigorosamente termocontrollata (l'uso del freddo e del caldo è una delle "armi" enologiche che Parusso predilige e impiega di più) dove restano per circa 3 giorni. Le uve non subiscono un processo di appassimento ma si stabilizzano, la buccia si rilassa l'acqua del raspo (che Parusso non elimina!) evapora lasciando posto a all'ossigeno che sarà poi fondamentale in fase di fermentazione alcolica.
Sono, i suoi, grazie all'insieme di questi processi, vini pieni, intensi e gustosi. Succosi ed eleganti, vivi e vitali.
LA DEGUSTAZIONE
Barolo DOCG 2016
Rosso rubino con sfumature granato. Il naso mostra un lato speziato che poi lascia il posto alla componente fruttata matura. Morbido e polposo con un tannino deciso ed elegante. Lunga la persistenza che conclude con note di futta sotto spirito. Un vino energico, figlio del classico blend di vigneti pilastro della produzione prima dell'avvento in Barolo della filosofia dei cru.
Barolo DOCG Mariondino 2016
Rubino e granato si fondono nel calice. Elegante e sottile al naso con riconoscimenti di ciliegia sciroppata contornati da spezie – la nota forse più distintiva del vino – ed erbe aromatiche. Entrata di bocca gustosa, tannino sottile e dolce. Piacevole freschezza e struttura. Lungo al palato con ritorni di frutta matura. Personalità asciutta. E stimmate di Catiglion Falletto evidenti.
Barolo DOCG Mosconi 2016
Un cittadino di Monforte che parla alta e chiara la lingua del posto. Note granate sul fondo rubino. Raffinato ed elegante, al naso evidenzia sentori di sottobosco, rabarbaro, agrume, frutta nera e tostato. Al sorso si esprime succoso e polposo, riportando alla frutta matura. Il tannino è morbido e l'acidità giustamente presente. Persistente e avvolgente. Un gran Barolo, interprete a tutto tondo del suo ruolo.
Barolo DOCG Bussia 2016
il DNA è scritto in etichetta. Luminoso rubino nel calice. Il sentore di amarene sciroppate guida il naso che rivela note floreali dolci e polpose. Perfetto equilibrio in bocca con un tannino sottile ed elegante. Coinvolgente freschezza e grande persistenza con ritorni di liquirizia. Setoso.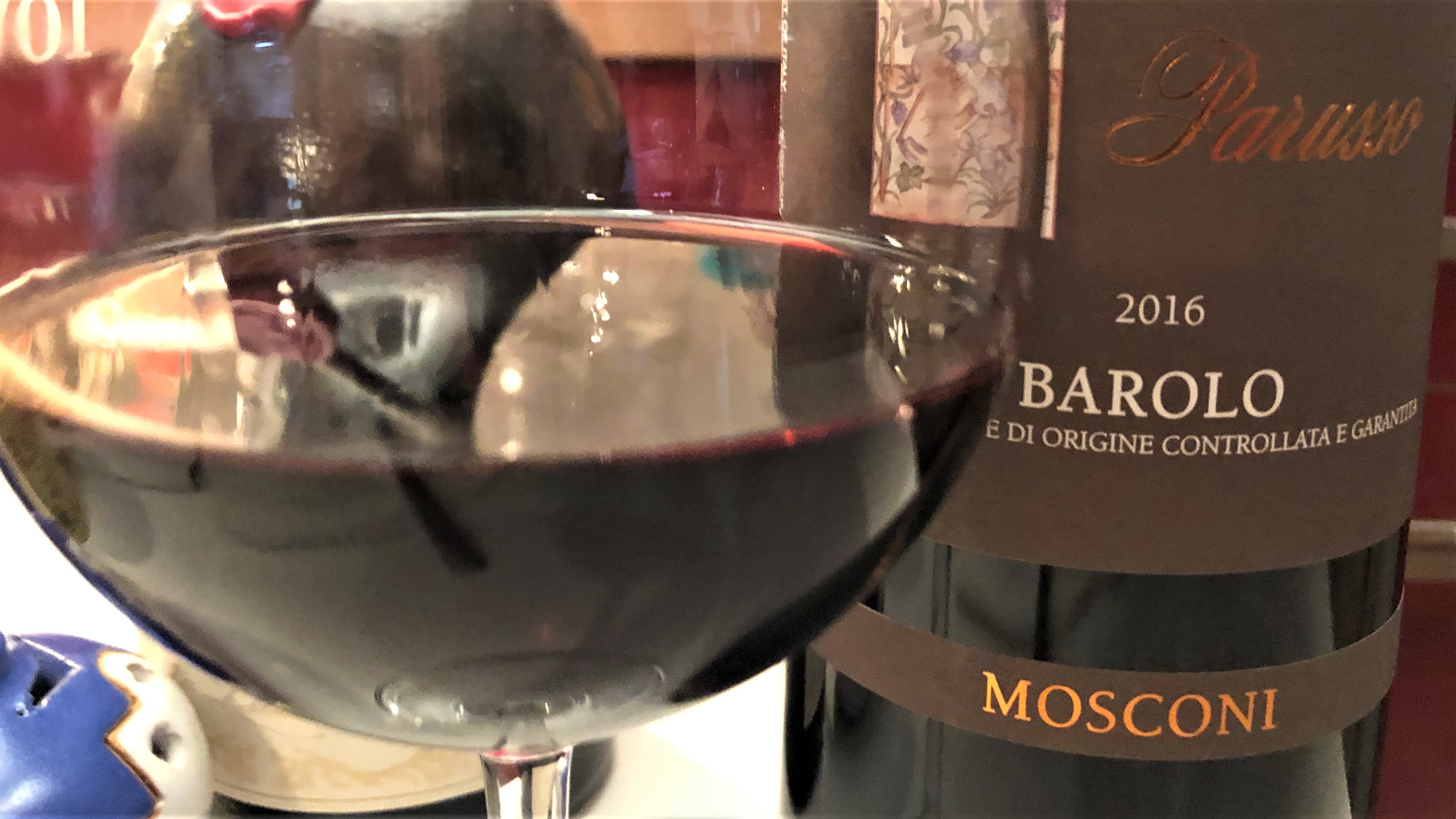 -----------------------------------------------------------------------------------

  LANGHE - PARUSSO INTRODUCES THE BAROLO 2016
by ANTONIO PAOLINI and PAOLO VALENTE
May 2020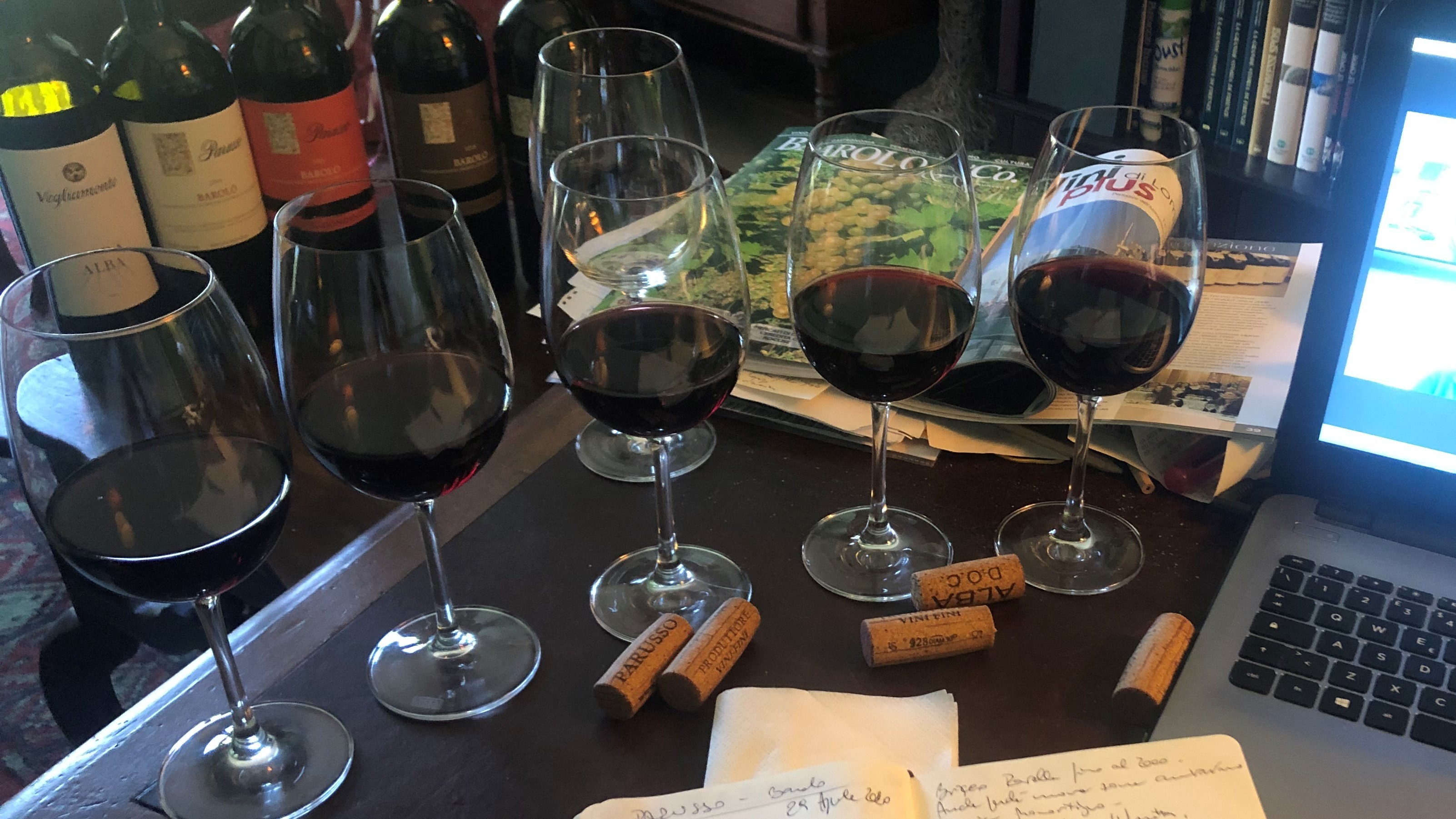 Even videoconferencing does not diminish Marco Parusso's overwhelming charge. He speaks enthusiastically for two straight hours, telling about his company and his wines, his life and his wine making choices, how he interprets viticulture.
A decidedly pragmatic and at the same time seasoned approach with courage and curiosity, made of decisions made but also of the ability to go back to change them and adapt them to new conditions or new needs.
His method - Nebbiolo according to Marco, one might say - is a cocktail of ancient and very modern, roots and avant-garde. Constant and attentive attention to tradition, with the rediscovery of practices canceled or forgotten by most, but rewritten in a modern key thanks to the application of the latest technologies ("They exist, they work: why shouldn't I use them?"). This is how his wines are born.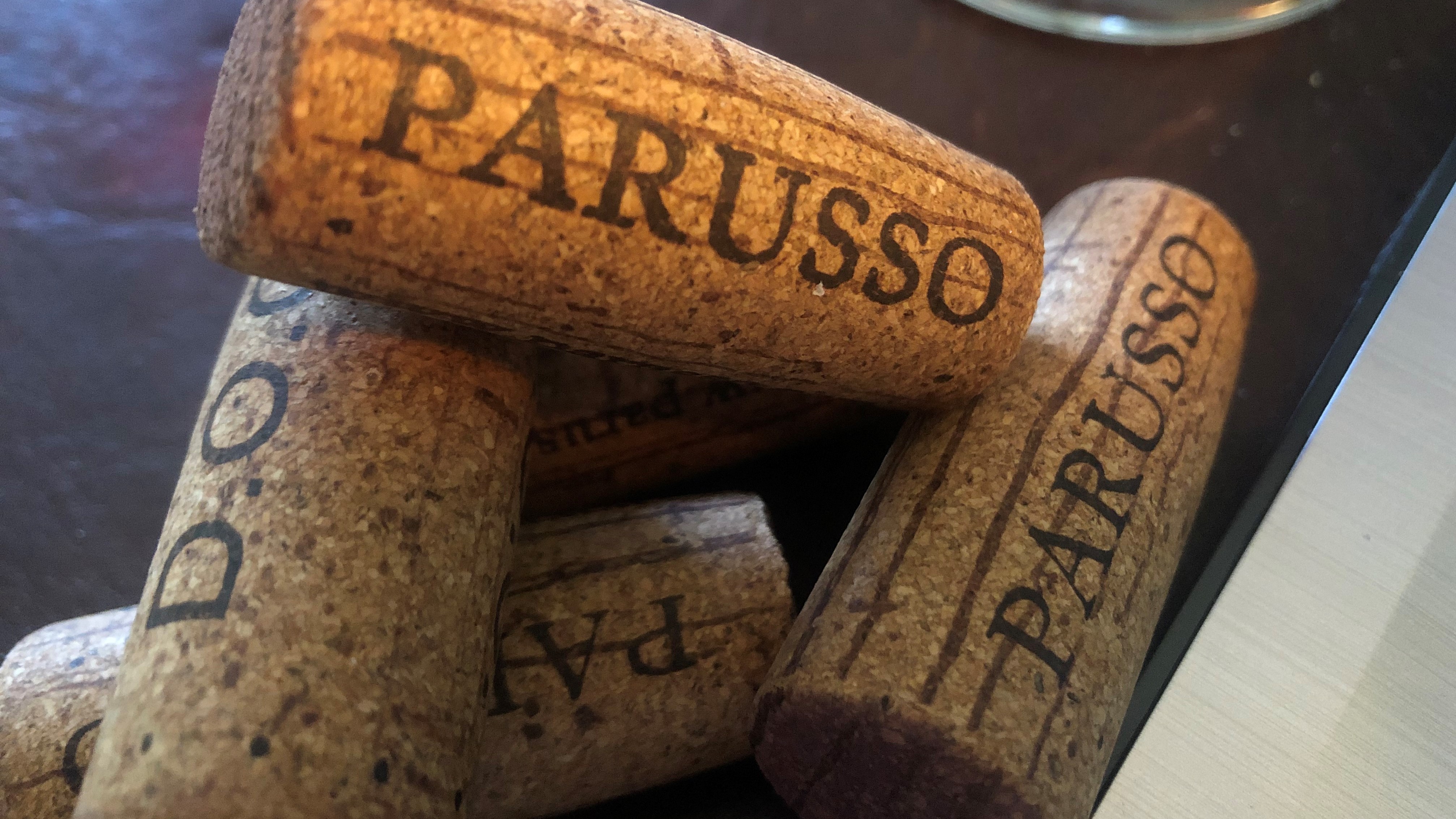 VEGLIAMONTE
First of all, a new adventure that began in 2015 when Marco and his sister Tiziana start managing the vineyards of Cascina Baconotta in Santa Rosalia in Alba.
Here they want to produce a single wine, a Alba DOC, which encompasses the local tradition, well aware that part of the oenological revival of Piedmont was determined by Nebbiolo-based wines "reinforced" by the presence of other vines. This was to allow easier access to foreign markets which, accustomed to the taste dictated by Bordeaux, expected wines with different characteristics in terms of color, tannin and structure compared to those of Nebbiolo in purity.
Vegliamonte, the name of the winery and of the wine, takes you back to the privileged position of the hill from which your gaze sweeps from the town of Barolo to the mountain range to the south, south-west. It is a wine produced with a blend of 85% Nebbiolo and 15% Barbera under the Alba denomination.
A denomination born precisely with the aim of reviving this tradition and which requires the use of Nebbiolo from a minimum of 70% to a maximum of 85% and Barbera between 15 and 30% with the possibility of a 5% maximum of other non-aromatic red berried vines and maturation of at least two years before being put on the market.
Beautiful lively ruby ​​color. The scent is captivating, a dynamism that conquers. Great concentration with notes ranging from black spices to jam. Full on the palate, pleasantly fresh with pleasant hints of aging in wood and a subtle tannin. Good persistence.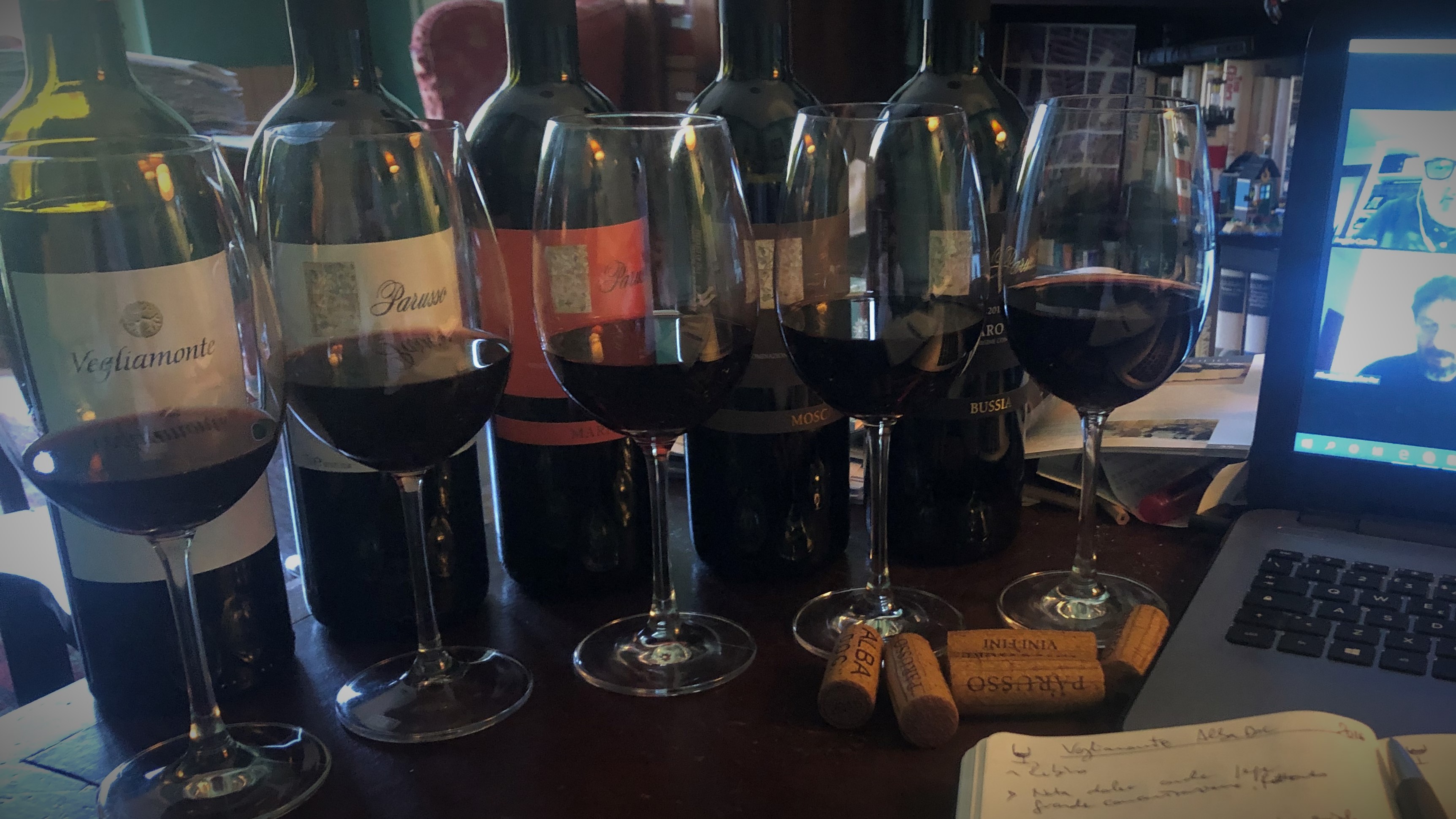 BAROLO
The Barolo of Parusso are all produced with a technique that involves recovering the veterinary practice of "resting" the grapes after the harvest and before pressing. However, the grapes are now harvested with the utmost accuracy, eliminating any imperfections, and the bunches are placed in small baskets which are then placed in a strictly thermocontrolled room (the use of cold and heat is one of the oenological "weapons" that Parusso prefers and employs more) where they stay for about 3 days. The grapes do not undergo a drying process but stabilize, the peel relaxes the water of the stem (which Parusso does not eliminate!) evaporates, leaving room for oxygen which will then be essential during the alcoholic fermentation phase.
Thanks to all these processes, they are full, intense and tasty wines. Juicy and elegant, alive and vital.
THE TASTING
Barolo DOCG 2016
Ruby red with garnet hues. The nose shows a spicy side which then gives way to the ripe fruity component. Soft and pulpy with a strong and elegant tannin. Long persistence that ends with notes of frutta under spirits. An energetic wine, the son of the classic blend of vineyards, the pillar of production before the advent of the cru philosophy in Barolo.
Barolo DOCG Mariondino 2016
Ruby and garnet come together in the glass. Elegant and subtle on the nose with hints of cherry syrup surrounded by spices - perhaps the most distinctive note of wine - and aromatic herbs. Tasty mouth entry, subtle and sweet tannin. Pleasant freshness and structure. Long on the palate with returns of ripe fruit. Dry personality. And obviously marks of Catiglione Falletto.
Barolo DOCG Mosconi 2016
A citizen of Monforte who speaks the local language loudly and clearly. Garnet notes on the ruby ​​bottom. Refined and elegant, the nose highlights hints of undergrowth, rhubarb, citrus, black fruit and toasted. At the sip it is expressed juicy and pulpy, bringing back to ripe fruit. The tannin is soft and the acidity rightly present. Persistent and enveloping. A great Barolo, an all-round interpreter of his role.
Barolo DOCG Bussia 2016
DNA is written on the label. Bright ruby ​​in the glass. The scent of cherries in syrup guides the nose which reveals sweet and pulpy floral notes. Perfect balance in the mouth with a subtle and elegant tannin. Involving freshness and great persistence with returns of licorice. Silky.